Keeping in line with the N.F.L. season and investing, we found a post from www.ebonydad.com that breaks down the economics of life in four football quarters. What the post highlights is a timeline of the typical paths of life we often take as we deal with life's obstacles.
By continuing to dream and striving towards your goals you can overcome the mundane path of life.  Which is why it is critical to know the importance of constantly investing in yourself and to not quit on your dreams and goals.
We are here to tell you that it is never too late to stop dreaming.
Take a look at the four quarters of life, see if you can recognize any parallels that resemble the way your life is headed. If so, its time to think about some changes that will allow you to live life the way you want.
What do your four quarters of life look like?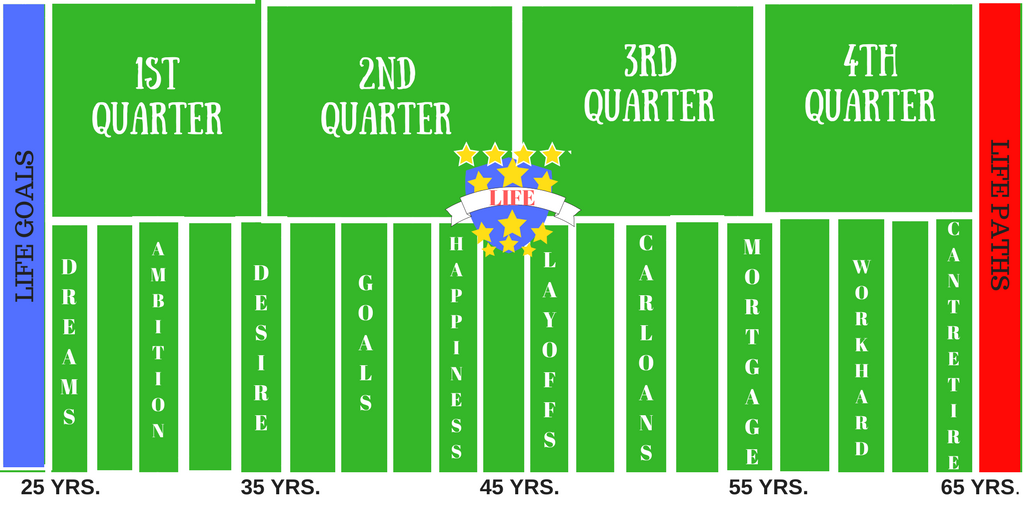 As I sat down and watched the speaker breakdown my potential life using just four quarters, I said to myself this is most people I know and most of America for that matter!
It was eye opening.
After speaking with the presenter and doing some research, I learned the analogy came from Robert Kiyosaki the author of the popular book 'RICH DAD, POOR DAD.' Good read by the way.
I will breakdown the quarters, each one in 10-year intervals, as I remembered it.
INVEST IN YOURSELF: FIRST QUARTER
Begins at the young tender age of 25.
These are happy times spent hanging with friends, learning who you are and where you are trying to go.
We have all our dreams ahead of us. Most of us have graduated from some college institution or have begun to shape our career path. Our goals are very attainable and 'the game of life' hasn't beaten us down, yet.
As you start to come to this quarter's end. You began to want more out of life and some real stability and status.
INVEST IN YOURSELF: SECOND QUARTER
You are now 35 years old.
In this quarter you tempered a lot of the fun and games. You are focused on your family and career.
Things are going well. You and your significant other decide you want to buy a house. So you take a 30-year mortgage.
The home needs some renovations, furniture, and you want the "white picket fence." The career is paying you well, but not that well. So you take out some credit cards.
Oh oh!
The impossible happened! That career job where you have dedicated over 10+ years of your life; One day decided that the sky was too blue and laid you off!
All your finances and bills are based off that one income (which includes partner's). The economy is slow. You failed to diversify your skills because you became too comfortable at your "secure job."
You get two jobs to try to supplement the one income that you lost. Now you are stressed, overworked, and miserable.
This new setup weighs on your relationship with the wife and kids. Your health deteriorates and things are not panning out the way you dreamt it not so long ago.
HALFTIME:
Saved by the whistle!
Time to regroup figure your life and make some changes for the next half. Or you could still be going through it. Robert Kiyosaki says this is the "Mid-Life Crisis" point.
No Bueno!
INVEST IN YOURSELF: THIRD QUARTER
You pushing 45 years old.
After a little bit of an up and down first half, you recovered a bit. You landed a "better paying job" making over $35 per hour. By now you have two cars and have refinanced your home once.
You have a little bit of a saving through work (401K) and whatever you manage to put into the bank without touching over the years.
Let's be honest…
After years of working the savings really do not reflect the efforts and time, you put in at work. Between all the vacations, bills, excess spending, and lack of real planning. You start to wonder if you will have enough to retire comfortably.
For most people, jobs do not pay enough coupled with poor financial decisions.
Oh no…
Not again another layoff, well at least this time it is your wife! Not much of a "silver lining." Again, you can't believe it. She was the supervisor and up for a promotion the following year.
You guys find another job(s) to supplement the missing income and you dip into the little bit of savings to keep you guys afloat.
INVEST IN YOURSELF: FOURTH QUARTER
55 years young!
Wow! Where did the time go. You are now wishing you could change back the clock or slow the game down. You are getting close to the end and you are not winning.
Checking the score…
Life
You still have a mortgage due to refinancing a couple of times that will take you past your retirement age.

Credit card debts are a constant struggle.

School loans still loom in the background.

Still paying off a car note.

You never learned to invest properly.

You didn't plan for the future.

Invested too much time on one style of income (Jobs don't work).

Working two jobs have become the norm.

Money always a topic of contention at home.

Deteriorated health. (What happened to all your hair and waste line?)

You are headed for Overtime!
Verse you
You raised your family.

You helped put the kids through college.

You manage not to lose your home.

You managed not to lose your significant other.

Took a vacation or two some years.

You also managed to stay alive.
OVERTIME:
You are 65 years old.
I mentioned that you were 'heading for overtime.' In most games this is exciting! The game has been close and it ended in a tie score. To decide the game should end in a tie we go into "overtime" tie should time run out or if somebody scores first (Sudden Death).
Looking at your score the game wasn't close or ended in a tie. In the game against of life 'overtime' is not an exciting outcome of the game.
In this version of overtime, it means you are working past your retirement age! Instead of riding into the "sunset" or sipping on Pina Colada's beach side. You greeting people at some storefront making minimum wage.
YOU ARE STILL WORKING!
The game you were playing and how you played, unfortunately, led you unable to retire. 
Side note: Retirement is not an age thing, its a money thing please remember that.
Actually, this part of the game does have "sudden death" implications. Working so hard for so many years and not realizing your dreams can potentially end the game early = your death. Where you may not even enjoy any part of the traditional retirement years.
CONCLUSION:
I know this isn't you!  This is some overly exaggerated timeline compressing life in just a mere 4 quarters.  The sad truth is this exaggeration is most people's reality.  Knowing that this timeline is accurate for a lot of people, wouldn't you try and avoid it?
Please, if you know somebody that this may apply to let them know that it is not too late. Even if they (you) are in the third quarter or early fourth quarter, you can change the course of the game and avoid overtime.
Helpful tips:
Invest in yourself – by getting knowledge and reading books.

Don't stop dreaming – life will knock you down you have to get up and fight.

Multiple streams of income – If you really want to live comfortable don't place all your energy in just a job. Learn different ways to generate income.

Create a Business – Work hard for yourself and not for someone else's dreams.

Plan for the future – learning how to manage your finances; utilized professional advisers, if possible.

SAVE – Look into IRAs or employer 401K programs and start now!

ENJOY THE GAME!
Would love some feedback and to know, which quarter of the game you are in?