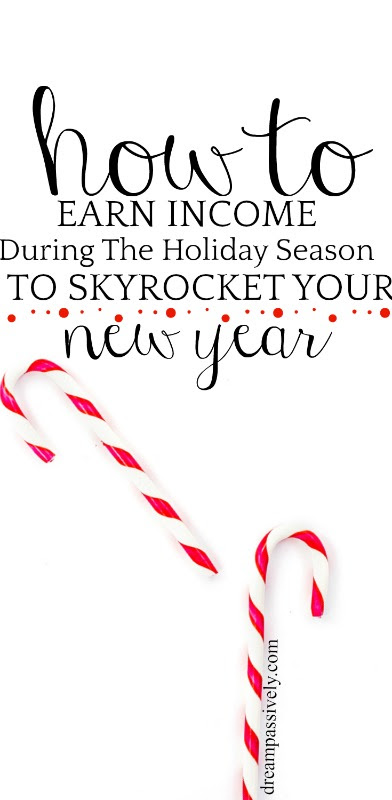 The year is quickly winding down and many of you are scrambling to make a little extra income so that you may have that perfect Holiday. Christmas is just a few weeks away and any additional income would help. We all have gifts we want to give to that special loved one or our children; How about some extra spending money for that Holiday trip you are taking?
Want some tips to earn some extra dough to have a successful holiday this late in the year? It is not too late and you can make extra income for the holiday season that can even skyrocket your earnings for the new year.
Check out some of these tips that will surely boost your income now that can lead into the new year!
Seasonal Side Jobs:
During the Holidays department stores and restaurants get busy and can use all the help they can get. You can apply and can get a temporary side job that will add more money in your pocket.
The other great benefit is if you pick a department store you typically shop at you may be eligible for their corporate discounts. Which means savings during your Christmas and holiday shopping.
A potential negative is that you may be asked to work a lot around important dates like Christmas and New Year's Eve.
Babysitting Jobs:
It's incredible how many families need a good baby, animal, or care provider sitters during this busy holiday season. With many errands and often late evenings at work a babysitter can be a family lifesaver. If you are interested in this income opportunity. A great site that bring sitters and families in need together is www.sittercity.com.
To get started is easy:
Create a free profile
Find a job near your location
Apply for the job
Of course, this is all predicated on you passing a background check and proving proper experience and credentials. Once you are in you can find jobs offering different ranges of pay per hour averaging over $10 per hour.
That can be solid income for the holidays that will go a long way towards the gifts we mentioned earlier. Depending on the family and pay you can make this a new career move.  While on your sitting job if downtime permits you can even participate in surveys to generate more income.
Working Overtime:
If you are not thrill with the idea of applying for a secondary job you could work some overtime this holiday season. Have a conversation with your manager and see if there is opportunity to pickup more time.
Often, they will be glad you offered. Remember the holiday season is pretty busy no matter your industry.  With other co-workers taking time off you can look like somewhat of office hero. It may also payoff come bonus season and promotions. We call this "paying it forward."
Also, the other benefit of working overtime is that some companies pay you more per hour and for working during a holiday.
This may be the easiest option to making extra income this holiday season.
Airbnb:
Traveling this holiday season?
Why not make extra income or help pay for that holiday get away by joining Airbnb. Rent your space while you are not home and make some money!
Using Airbnb can help cut the down on your expense while on your trip.  Keep more money in your pockets this traveling season by lodging via Airbnb.  Often times you are saving more by booking with Airbnb than if you booked  with a hotel.
Renting out a whole apartment where you can save by cooking instead of eating out every night is money in the bank. The money you save will really add value back to your overall trip.
Sign up is Free and right now you get a $40 travel credit towards your first trip by signing up through my link here…
Earn Cash Back:
If you must spend this holiday season why not pay yourself back, while doing it. Most of us will be shopping online. Use Ebates to earn cash back, it is cash reward site that is affiliated with most of the well-known merchants out there. Get cash back shopping through their site at Amazon, Wal-Mart, Macy's and many, many more.
This is how we plan on doing our online shopping this holiday season and some places we will earn average of 3% to 7% cash back on purchases. It may not be much but it's better than nothing.
You can also earn additional discounts and coupons by making purchases through Ebates. This is a no-brainer if you are a online shopper, plus sign up is free so check them out here…
Interested in more money generating apps and tools? Become a subscriber today to get our comprehensive list of  Money Making Machine List.  Start earning and saving now!
Sales Jobs:
Making the list… sales, due to their flexibility and ease of entry in the profession or opportunity.  Again, companies cannot get enough help especially their sales and marketing departments.  Whether it is a physical product or service, good sales team are crucial to companies bottom line.
They are always looking for a few good (wo)men and you may be able to help this season. You can earn solid commissions, some sales job may even offer a base pay.
What also, makes this an attractive opportunity is the ability to sell your product or service online!  You can either create a website or promote through your social media platforms of choice. Now it is not as simple as it may sound and you may need tips and tools, but utilizing can help you earn more extra income.
Online sales is great for our shyer and less experienced salesperson.
Ride Share:
OK… I am sure you know this one was going to make the list, especially for quick cash for the holiday season. Drive for Lyft or Uber. They seem to be everyone's go-to side hustle/career change nowadays.
Now more than ever is as good a time as any to also get in on the action. With people attending holiday parties and get together the need for Lyft and Uber drivers will be high and important.
The appeal of ride-sharing is being able to drive and pickup customers whenever you want, again making it easy to earn extra income.
You can even earn additional income with by having new customers signup or drivers join.  That's right! Lyft has partnership program that pays you $5 dollars for every new customer that joins; Depending on your area new drivers that join, Lyft will pay you $300 find out if you live in a qualifying area now.
Car Share:
On the heels of ride sharing for extra income this holiday season. How about sharing your own car? Renting out your car to customers in need is another way to earn income utilizing a vehicle.
Profit while you are away this holiday, while you are at work, and for the driver that doesn't do a lot of driving this is ideal.
A car sharing website that claims their members can potentially earn $10,000 a year is www.getaround.com  Another site offering peer to peer car sharing that can help bring in extra income is www.turo.com
Here is an additional twist…
Have a business or extra parking space in a popular neighborhood? www.maven.com is another take on P2P car sharing. With their Maven Home program, you can rent out your extra parking space at your business or home/neighborhood. As customers rent cars from your location you get paid!
There You Have It…
The holiday season is fast approaching and this list is a good way to offset some of the cost that tends to increase during this time of the year. This list does not just solve your income needs now.
You can use these extra income tips to start helping your income needs for the upcoming New Year!  Some of these holiday income ideas may start off as side hustle to making extra money, but can ultimately become great business opportunities.
Hope this was helpful here is wishing you a happy and fruitful holiday and New Year. If you are looking and are need for additional income ideas please join our mailing list.