Tis the season to avoid going broke!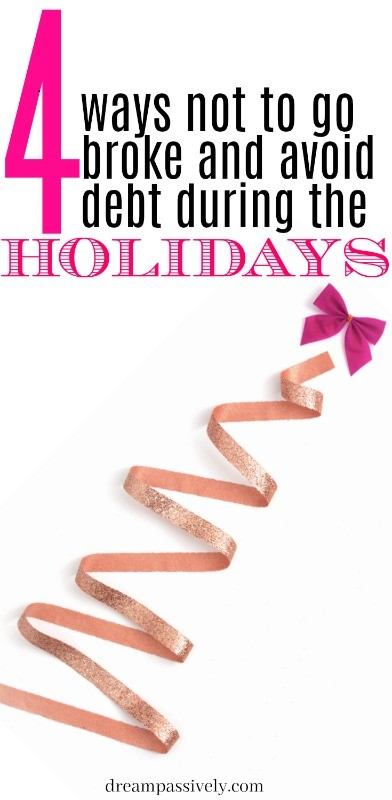 Millions of Americans spend a fortune during the holidays, without having the fortunes to back it up. We buy things we don't need and sometimes no matter the cost. The cost can sometimes be a direct attack to our savings and jeopardizing our financial health and future!
I understand that we have created a tradition of gift giving and spending, I am in the boat with you. We want to bring happiness to our loved ones, family, and friends during the holidays. It is the season of giving after all. But, It should never be at the expense of your bank account and savings.
Here are four helpful tips that I will be applying this holiday season to help better manage my spending going into the new year.
 Budget For Holiday
One way to stay on top of your holiday season shopping so that you don't go broke and in-debt is to create a budget. The holidays come around the same time every year, yet many of us find ourselves doing that last minute dash.
Waiting last minute increases the chance of buying expensive items impulsively or missing out on better deals, ultimately spending more.
It maybe a little late now for someone of you to put budgeting for the holidays into practice. Going forward start working early on your shopping by creating a budget early in the year. I find, the earlier you can start the more you can put away. If need be you can create a holiday account your can add money year round and for future holidays. Or try an envelope system to stash away cash.
Plan & Research Gifts
This debt avoiding tip for the holidays is similar to the budgeting tip in that you want to start early, but in the research aspect of your shopping.
A little research and planning can help you avoid going into credit card debt. I know my male readers may have a little trouble with this one.
Trust me I am not a good planner at all…
One thing you can do to prepare is find out how much the item you are interested in buying for your love ones is going to cost. Give yourself some time to compare prices with other retailers by shopping around early.  You may end up finding great "early bird specials" the even beat the holiday sales.
Again here, preparing and researching early will avoid you buying impulsively and keep the stress levels in-check.
Set Price Limits On Gifts
An easy way to protect your pockets against the holiday spending season is to be strict and intentional about your spending. Give yourself a strict spending limit or a fixed dollar amount that you cannot go over.
By having friends and family participate in your holiday spending limit it will set the precedent on the range of gifts to get. This also removes the pressure of having to buy a bunch of items that can add up.
This tip is by far my favorite way to not to overspend during the holiday season. All the guesswork is out the door. Some years my family and have had limits as much as $100 and as low as $20. It really up to you, remember you know what you can afford so you set the bar that works for your wallet.
Bargain Shopping
A fun way to save this holiday season is to go bargain shopping. We find it very entertaining hunting down good deals from everywhere and anywhere. It may take a little bit of work comparing prices between different stores, but there lies the fun.
This can even turn out to be a great holiday tradition where the whole family can participate without breaking the bank.
Remember, "early bird girl gets the worm", which means you don't necessarily have to wait till the end of the year.
Holidays Doesn't Mean Go Broke Season
The holidays is a time meant to enjoy and cherish one's loved ones, family, and friends, but for most American family it is quite the opposite. As we have become accustomed to a bad tradition of overspending and stressing about the holiday seasons. This creates a rippling effect of poor money management that can last throughout the year.
Hopefully, by applying some of these tips you can avoid feeling like you are going broke this holiday season. Where we can all get back to what is really important. Spending more quality time and enjoying the blessings and people that surrounds you.
Here is to fruitful holiday and new year to come!