When it comes to finance and investing there are many different strategies and options (no pun intended) you can take. The risk/reward is enough to keep your anxiety on high stress, especially if you are new to money management.
Motivational quotes, speeches, and videos have a way of inspiring others to accomplish feats that seem impossible and unattainable. In no way managing your finances and investing should be considered impossible. But, motivational resources like quotes can assist in getting you started and over the hump. It may seem daunting, but with anything the more you do, the easier it becomes.
Here are 10 Ultimate Finance Quotes that are simple and practical that will leave you more informed, motivated, and inspired to take control of your finances.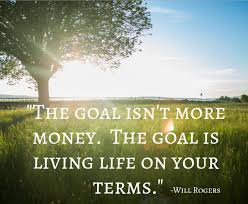 Motivational Quotes:
If you don't fine a way to make money while you sleep, you will work until you die. —

Warren Buffet

How many millionaires do you know who have become wealthy by investing in savings accounts? I rest my case. —

Robert G. Allen

An investment in knowledge pays the best interest. —

Benjamin Franklin

My favorite things in life don't cost any money. It's really clear that the most precious resource we all have is time.–

Steve Jobs 
Those who don't manage their money will always work for those who do.–

Dave Ramsey

It's not how much money you make, but how much money you keep, how hard it works for you, and how many generations you keep it for.–

Robert Kiyosaki

Know what you own, and know why you own it.–

Peter Lynch
In investing, what is comfortable is rarely profitable.–

Robert Arnott

Opportunity is missed by most people because it is dressed in overalls and looks like work. —

Thomas Edison

Formal education will make you a living; self-education will make you a fortune. —

Jim Rohn